History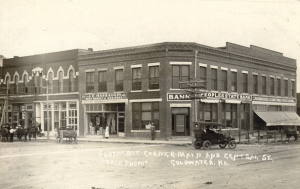 Coldwater was first a dream of a group of men from Harper County who wanted to start a county seat town. C.M. Cade, one of the founders, related the story of the town's beginning in the Western Star in 1921:
In the spring of 1884, there assembled in the office of Sam Sisson, George Vickers, Tim Shields, J. Paul Grove and myself. We decided to go through on the Kansas line by Kiowa to a centerally located point east and west of Comanche County, where we would get a corner and survey north and locate a town near the center of Comanche County. Our party had a little grub, a shotgun to kill game, the necessary medicine for snake bites, and a surveyor's outfit, Mr. Vickers being a civil engineer.
When we got to Kiowa, we went through Nescatunga, a new town started by some people from Medicine Lodge, aiming to make it the county seat of Comanche County. The cattlemen and the cattle had destroyed all the government surveyors' marks except a few township lines which we could find now and then. So we went south to the state line between the Cherokee Strip and the Kansas line in the Indian Territory, Vickers being the surveyor and the rest of us the chain carriers and the flagmen. So we started to survey north. The chain carriers, after they had worked half a day and had taken lunch and gone back to work, came to the conclusion that there was a great danger of rattlesnakes, so they would take a little of the snake medicine which they had with them, and then it was 'stick, stuck' until they had to change pins, and when they did that, of course they would take a little medicine for snake bites.

Old School Building
So about three o'clock in the afternoon, the chain carriers got tired and took a nap. When they woke up, one said to the other, 'How many chanins?' He said, 'Forty-eight.' The other said it was fifty eight or something of the kind, so they split the difference. When they came to the center of what was supposed to be Comanche County, they had missed it a mile and a half. They went east then, heard of a township corner and stayed all night; and then surveyed from that corner to the present town site. On a piece of school land where we found this township corner was C.C. Tincher, who was a member of the Nescatunga Township Company, but after he took a meal with us and partook of the necessary snake medicine, he abandoned his comrades at Nescatunga and joined our townsite company, I paying his way in. We surveyed over Coldwater and found just below us on Cavalry Creek, where we had camp for water, Mr. C. D. Bickford, who was also figuring on a townsite. He was from Coldwater, Michigan, and told us that if we would let him name the town, he would give up his townsite project. That is the way the town was named Coldwater. We left all the land around Coldwater for the settlers. We took a secton for the townsite.

Allderdice Store