Coldwater Lake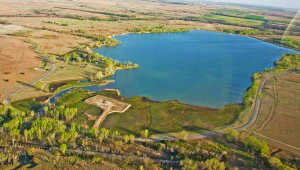 Coldwater Lake is the only city, county, or state lake in southwest Kansas that permits water-related sports. It is a 250 acre man-made lake in a 930 acre park within the Coldwater City limits.
Utilized by people from a large area of Kansas and Oklahoma, the lake provides ample facilities and opportunities for boating, swimming, fishing, bird watching and camping. Those with campers and trailers will find adequate campsites with water and electric hookups, as well as sanitary facilities at various points around the lake. Other camping and picnic areas have been built within the park, with more being added each year.
Fisherman come to try their luck with the ever-elusive wipers and catfish. Annual fish stocking is handled by the Kansas Wildlife and Parks Commission.
There were two major additions at the park in 2002. A nature trail was added at the south end of the park and a two diamond ball park, with associated facilities, was added just to the south of the park entrance.
The lake is owned and operated by the City of Coldwater.
If you would like to contact the information booth at Lake Coldwater, the phone number is 620-582-2702.